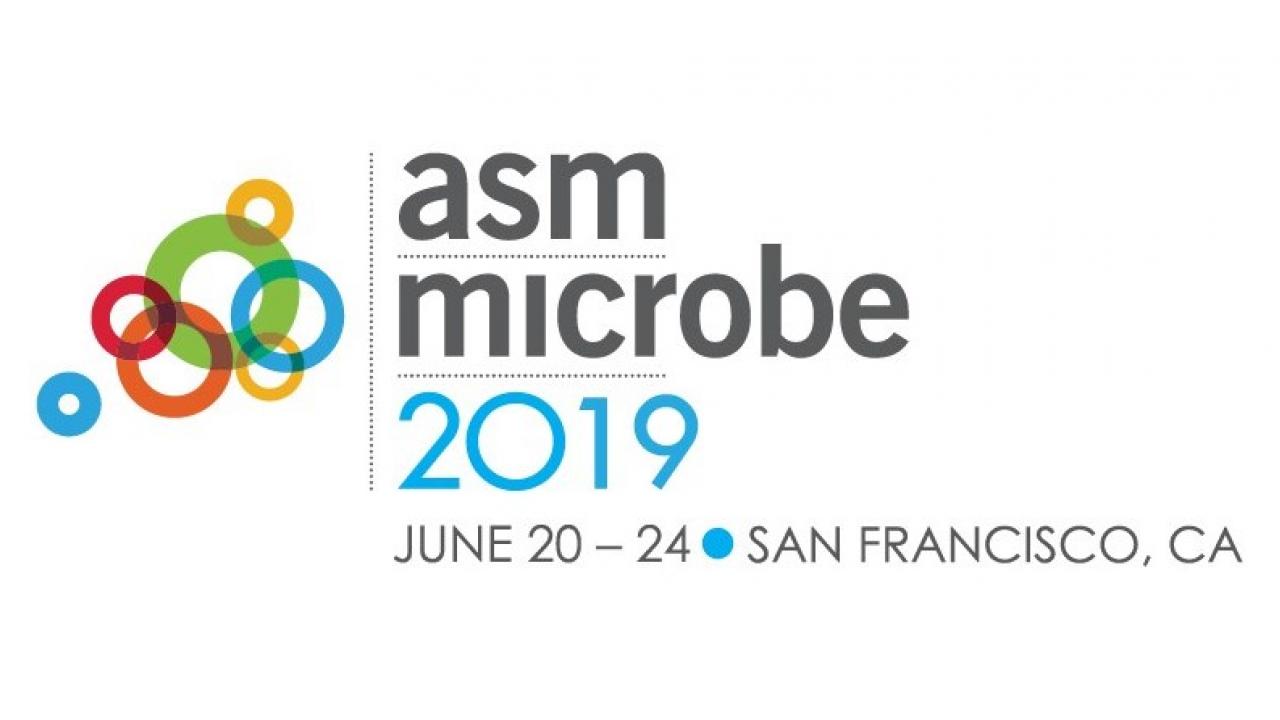 Location
Moscone Center San Francisco, CA
Excite. Engage. Explore. Extract. Evolve.

ASM Microbe 2019 let's you do all of these! Showcase your research to the world of microbial scientists. Delve into your scientific interests and specialties with sessions in eight specialty tracks curated just for you. Explore cutting-edge research in the 3000+ poster and oral presentations. Connect with experts in the microbial sciences. 

Any way you look at it, you need to be at ASM Microbe 2019, June 20–24, 2019, at the Moscone Center in San Francisco, the City by the Bay!
8 different tracks:
Antimicrobial Agents and Resistance
Applied and Environmental Science
Clinical Infections and Vaccines
Clinical and Public Health Microbiology
Ecology, Evolution and Biodiversity
Host-Microbe Biology
Molecular Biology and Physiology
Profession of Microbiology
Schedule at a Glance
Each day at ASM Microbe 2019 offers you the chance to delve into your scientific interest and specialties, discover cutting-edge research in the poster and oral presentations, and connect with a world of microbiology experts. The schedule-by-day below gives you a preliminary peak at what is in store for you.
Thursday, June 20​
8 a.m. – 4 p.m.        
Pre-Conference Courses and Workshops*
*An additional fee is required to participate.
5 p.m. – 6:45 p.m.
Opening Session
Friday, June 21
7:15 a.m. – 8:15 a.m.
Meet-the-Experts
8:30 a.m. – 10:30 a.m
Cross Track Session
10:30 a.m. – 1 p.m.      
Dedicated Exhibit and Poster Hall time
11 a.m. – 12 p.m.
Poster Presentations and Fireside Chats
1:30 p.m. – 4 p.m.
Symposia, Career Talks, Fireside Chats, Poster Talks, and Rapid Fire
4 p.m. – 5 p.m.
Happy Hour & Poster Presentations with Rapid Fire and Fireside Chats
Evening Open
Saturday, June 22
7:15 a.m.– 8:15 a.m.     
Meet-the-Experts
8:30 a.m. – 10:30 a.m.     
Cross Track Session
10:30 a.m. – 5 p.m.     
Exhibit and Poster Hall hours
10:30 a.m. – 1 p.m.    
Dedicated Exhibit and Poster Hall time
11 a.m. – 12 p.m.   
Poster Presentations and Fireside Chats
1:30 p.m. – 4 p.m.
Symposia, Career Talks, Poster Talks, and Rapid Fire
4 p.m. – 5 p.m.
Happy Hour & Poster Presentations with Track-Specific Town Halls and Fireside Chats
5:15 p.m. – 7 p.m.
President's Forum
7 p.m.– 8:30 p.m.   
Board of Directors Reception
Sunday, June 23
8 a.m. – 10:30 a.m.     
Symposia
10:30 a.m. – 4 p.m.     
Exhibit and Poster Hall hours
10:30 a.m. - 11:30 a.m.
Morning Break  Exhibit & Poster Hall
10:30 a.m. – 1 p.m.      
Dedicated Exhibit and Poster Hall time
11 a.m. – 1 p.m.     
Poster Presentations and Fireside Chats
1:30 p.m. – 4 p.m.     
Symposia, Career Talks, Poster Talks
4:15 p.m. – 5:15 p.m.   
Keynote
Evening Open
Monday, June 24
7:15 a.m. – 8:15 a.m.   
Meet-the-Experts
8:30 a.m. – 11 a.m.     
Symposia
11 a.m.     
Meeting officially concludes